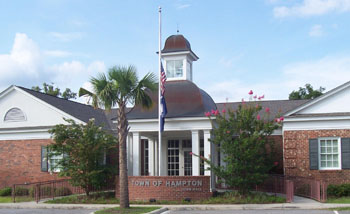 Hampton is full of exciting attractions, beautiful scenery, historically significant sites, and friendly people. Boasting a population of 2,837, we are centrally located in the heart of the South Carolina Lowcountry. The Town of Hampton is the county seat for Hampton County.
Major highways traversing the town include U.S. Highways 601, 278, and 363. Interstate 95 is 18 miles away.
Hampton is home of the oldest, continuing festival in the state, the Hampton County Watermelon Festival, held the third week of June. It gives us great pleasure to present this hometown website to you in our continuing effort to communicate effectively with the citizens of the area and visitors alike.
Whether you are a resident or an out of town visitor, we are here to serve you. If you need additional information, please contact us.