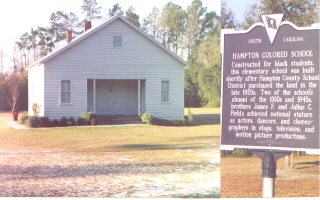 608 First Street W.
Hampton, SC 29924
Phone: (803) 943-2951
Hours: Thursday's 2:00 p.m. to 4:00 p.m.
Supervisor
Councilman James W. Hagood
The school provides a historical museum, information storage and other pertinent data that pertains to the African Americans of Hampton.
The Hampton Colored School was built in 1931 and used to be the only educational facility for the community's Black children. The structure replaced a dilapidated one-room school house that dated back to 1922. The facility has been restored and named to both the South Carolina and the National Register of Historic Places. The museum serves as a repository of Black History in Hampton.